NOTE: For Cinnamon to work, your system must provide 3D hardware acceleration. If your system does not have 3D hardware acceleration, you will only see the "traditional" GNOME desktop.
This is a limitation of GNOME 3 (on which Cinnamon is built). According to gnome.org:
GNOME Shell uses relatively primitive 3D capabilities that have been available from essentially all computing devices made in the last four or five years.
This seems to imply that the if your video card is pre-2007, there is a good chance Cinnamon (and GNOME) will not display as expected.
These instructions are for installing the Cinnamon Desktop v.1.4 on Ubuntu 12.04 running the Unity interface.
Installation instructions may be the same or similar for other version combinations or for other Linux distros, but no guarantee is made.
The latest information about the Cinnamon Desktop can be found here.
The Cinnamon Desktop is one of the desktops provided with Linux Mint.
Linux Mint is derived from Ubuntu and it is possible to install Cinnamon under Ubuntu instead of installing Linux Mint. This is the closest we come to being able to upgrade from one distro of Linux to another.
The Cinnamon desktop is similar to the traditional Windows type of desktop, with a Start menu in the lower left hand corner (the same is true of LXDE). It opens up a rather nice large panel divided in 4 parts: (1) quick launch icons (red), (2) menu categories (green) and (3) applications (blue), (4) search (yellow):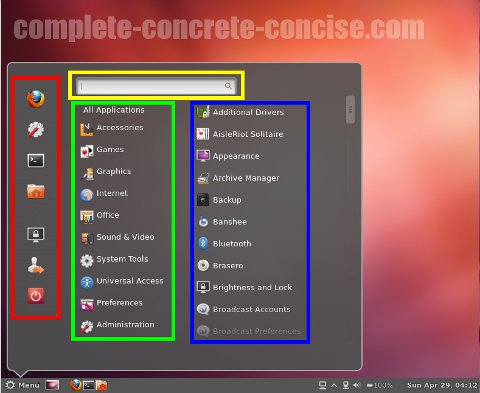 If you are changing desktops because you are totally lost / confused by Unity, I suggest reading this tutorial and giving Unity a chance.
Of course, if you really hate Unity, then Cinnamon Desktop is an alternative desktop.
Cinnamon Desktop will install 63MB of files and data to your hard disk.
Some images may be clicked for full sized versions.
What it Looks Like
The basic, straight-out-of-the-box, look of the desktop is: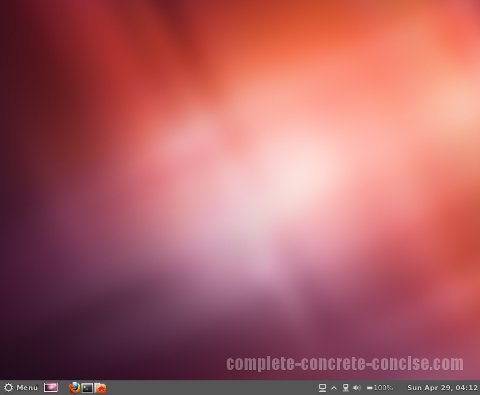 Quick Instructions
If you are comfortable using a terminal entering commands then open a terminal and enter the following commands:
sudo add-apt-repository ppa:gwendal-lebihan-dev/cinnamon-stable
sudo apt-get update
sudo apt-get install cinnamon
Restart your system.
Note: it may be sufficient to simply logout and log back in, but I don't think it hurts to restart.
Detailed Instructions
If you are not comfortable opening a terminal and entering commands, or have never done so before, these step by step directions should guide you through the process:
Opening a Terminal
Press Ctrl+Alt+T to open a terminal. (Detailed instructions for opening a terminal can be found here.)
Pressing Ctrl+Alt+T means "While holding down the Ctrl and Alt keys, press the T key as though you intend to type it". Do not press or hold down the Shift key. It does not matter if the Caps Lock key is on or off.
You should now have something that looks like this: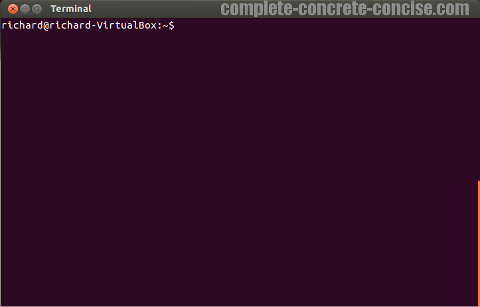 Adding Software Sources
Cinnamon Desktop is not part of the regular software sources used by Ubuntu, so you have to add the sources for Cinnamon.
1) Enter the following line exactly in the terminal:
sudo add-apt-repository ppa:gwendal-lebihan-dev/cinnamon-stable
You can type it or cut and paste it.
To cut and paste the line into the terminal:
1) Select the line and press Ctrl+C.
2) Right-click on the terminal. This will pop up a menu. Select Paste from the menu:
Note: the traditional keyboard shortcut Ctrl+V will not work in the terminal.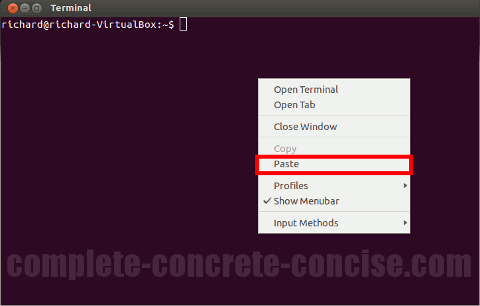 It should look something like this when you are done: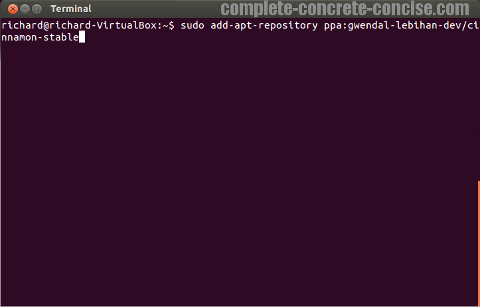 2) Press the Enter key.
3) Enter your password (this is the password you use to log into Ubuntu) and press the Enter key: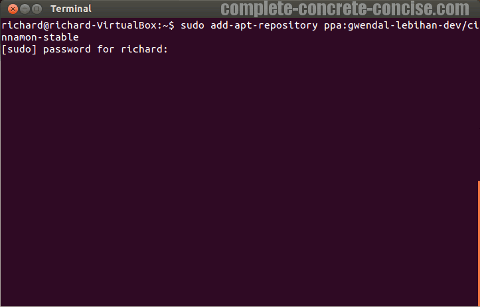 Note: when you type your password, nothing will happen in the terminal. It gives no feedback as the password is typed in. This is normal.
When you are done, it will look like this: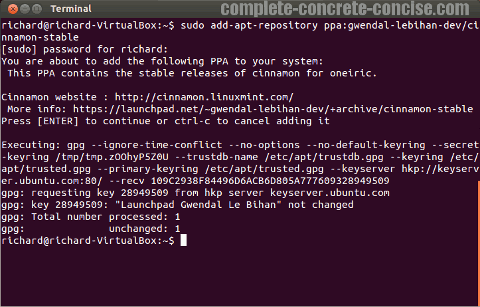 Updating the Software Sources
Before Cinnamon can be installed it is necessary to update the software sources so Ubuntu knows where to fetch the required packages from.
1) Enter the following exactly:
sudo apt-get update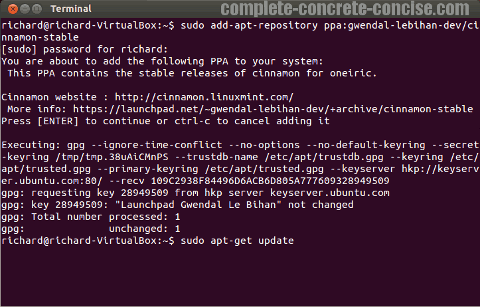 2) Press the Enter key.
3) Enter your password and press the Enter key.
Ubuntu will then spend several minutes updating your software sources. The amount of time will depend on the speed of your Internet connection.
When it is done, it should look something like this: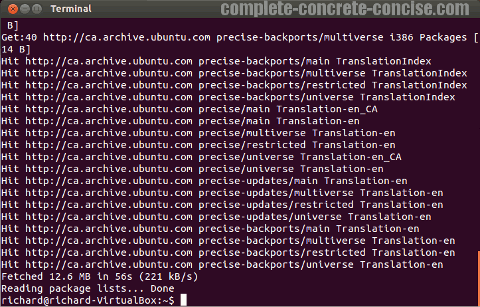 Installing the Cinnamon Desktop
1) Enter the following exactly:
sudo apt-get install cinnamon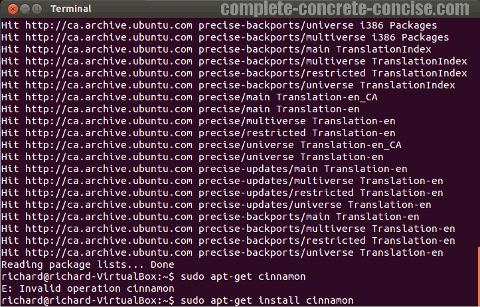 2) Press the Enter key.
Some text will scroll across the screen showing exactly what is going to be installed. You will be prompted to continue with the installation: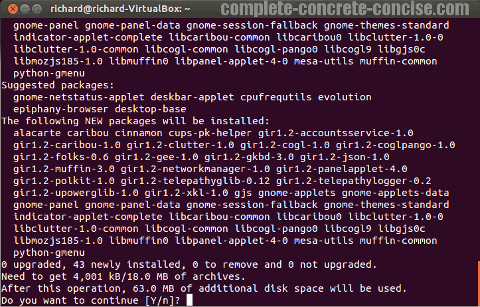 3) Press the Enter key to proceed with installation. (You can also type y followed by Enter.) If you don't want to install it, then press n followed by the Enter key.
Installation time will depend on your Internet connection speed (how quickly you can download the code) and computer speed (how quickly you can compile everything).
4) After installation is finished, click on the System icon in the upper right corner of the desktop and select Shut Down… from the drop down menu: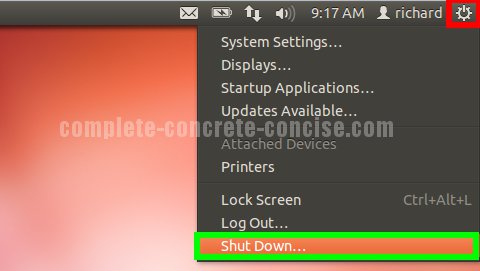 5) Click on Restart:

Selecting the Desktop
After the system has restarted, it is necessary to select the new desktop from the login screen.
It is only necessary to select the desktop the first time after installation. Ubuntu will remember your your desktop for future logins.
You can even install multiple desktops and switch between them.
1) Click the icon in the top right of the Login box: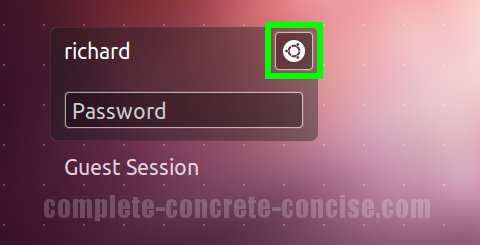 2) Select Cinnamon: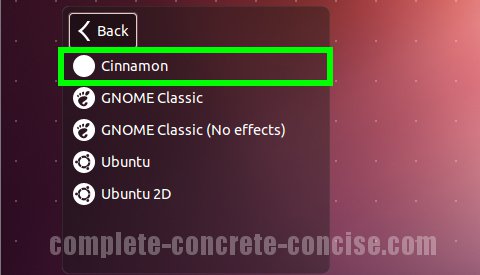 3) Login:
Notice the icon in the upper right hand corner has changed to a blank circle. Some, not all, desktop environments will present an icon there.
If an icon is present, this provides a quick way to see which desktop environment you are logging into.